EST4 PLATFORM
Featuring a new network architecture, EST4 makes fire alarm, mass notification, and building integration easy to implement, quick to service, and secure in the face of today's cyber threats.
The result is an emergency communications system equally suited to new and retrofit projects; a platform that keeps property safe and steers people clear of danger.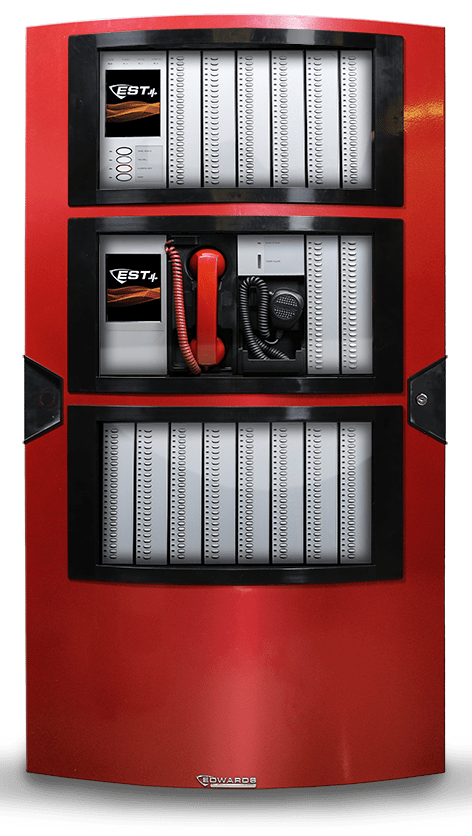 Flexible IPV6 network design. Can operate in Class B, A, X, N or full mesh using fiber, Ethernet or copper wiring.
Firewalls - The EST4 proxy firewall uses Advanced Encryption Standard (AES) encryption and secure protocols making it FIPS Pub 197 certified. The FIPS, Federal Information Processing Standards, are the most current and most advanced encryption protocols administered by the National Institute of Standards and Technology (NIST).
On-board Webserver Remote device-independent access to system status reports.
Built-in E-mail and E-mail-to-SMS Messaging Instant notification of specific event types sent to appropriate personnel.
Large Full-color LCD Touch Screen with Tactile Buttons Fast, intuitive access to service and responder functions.
Five-color LED Indicators System status at a glance, select the color needed during programming, reduces replacement part inventory, maximizes use of available infrastructure.
Network data, audio data, and telephone data share a single twisted pair or single fiber strand Up to 75 percent less cabling, substantial cost savings in material and labor.
Backwards Compatibility with EST3 Wiring, devices, and most local rail modules are backward compatible, providing easy migration paths, economical transition to new technology.
Existing Systems Supporting only Network Data can also Support Voice Audio Upgrades add value and extend capabilities in retrofit situations.